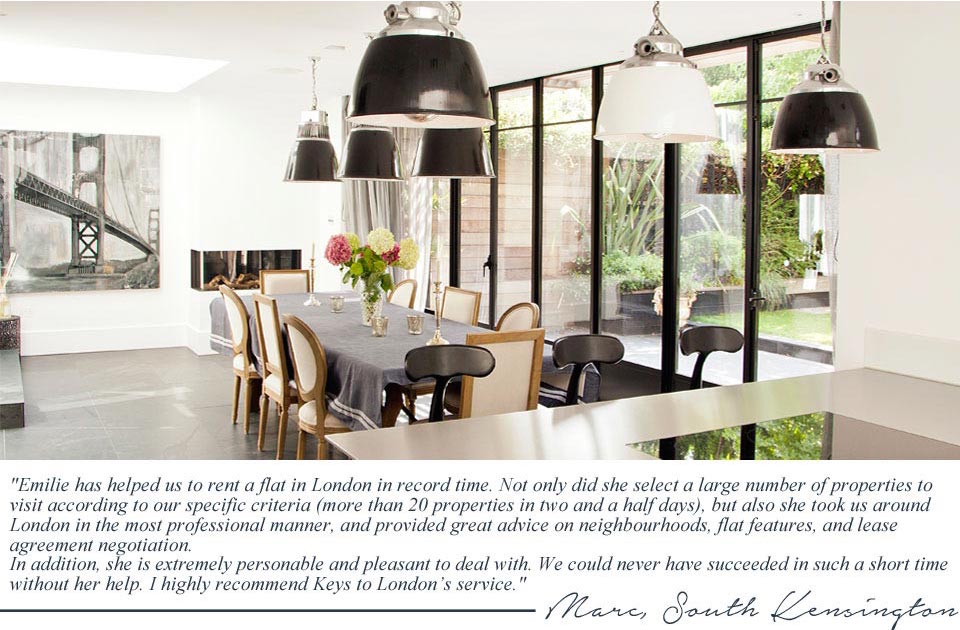 Looking to rent in London? Whether you're moving here for the first time or  you already live here, we can help. Thanks to our long experience and our well established network, KEYS TO LONDON will facilitate the process of finding the rental that is best adapted to your needs. Our services include:

A first contact by telephone to define your needs and expectations with one of our consultants. The same consultant will accompany you throughout the entire process.
Advising you on the different areas of London to help you choose which neighbourhood  is the most suitable for you.
Providing a selection of properties corresponding to your criteria. You may preview the list before we organise the visits.
Organisating a schedule of visits, optimising their number according to your availability.
Taking charge of all logistic around site visits, during which we will happily give you all practical information on daily life in London (schools, health, shopping, transportation and entertainment).
Adjusting future visits according to your feed-back, even within the same day if necessary.
Negotiation and follow up of your offer : duration of the lease, renewal options, rent increases, break clauses, etc.
These services are free provided the rental is a minimum of £500 per week.